INDUSTRY UPDATES
April 30, 2021
Delta-8 THC Sales Across The States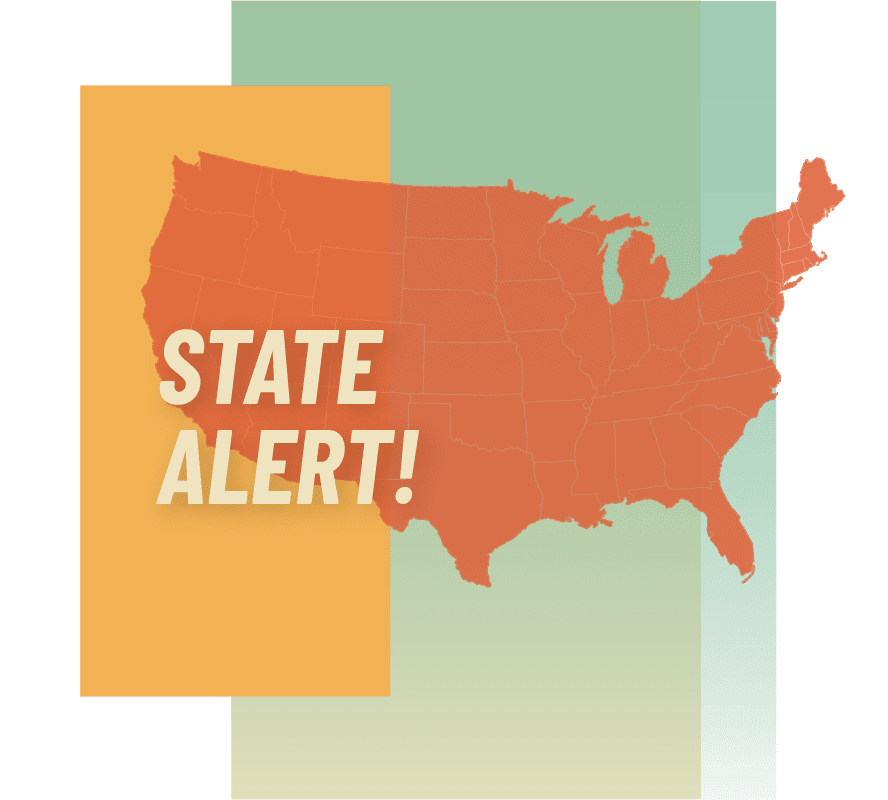 There's no hotter topic in the cannabis world than Delta-8 THC. Sales of the product have exploded, providing profits for some farmers and companies. But policymakers across the country have raised alarms about intoxicating products being sold without regulation or oversight in gas stations and vape shops across the country. Stories of harm to unsuspecting children have begun to pop as well.
The U.S. Hemp Roundtable has taken a strong stance on this issue. We are opposed to marketing products under the guise of hemp for their intoxicating effect. While we are not calling for a strict Delta-8 ban, we believe that intoxicating products should be regulated akin to adult-use cannabis, sold in dispensary-like settings away from minors. The dietary supplement and food/beverage additive lanes should be limited to non-intoxicating hemp products.
Like for CBD in the early years of the 2014 Farm Bill, conditions for delta-8 and artificially derived cannabinoids are in flux. Some states have already or are in the process of banning delta-8 THC products. Other states, however, are adopting regulatory frameworks that allow for delta-8 THC under certain controls. All the while, the portion of the DEA's Interim Final Rule concerning synthetically derived THCs is muddying federal waters.
There is clearly a need for clarification of existing laws. Vermont, for example, recently emailed all state hemp registrants that the manufacture, distribution, and possession of delta-8 THC is illegal even though the state's definition of hemp does not exclude delta-8 THC. More direct attempts at clarity are beginning to appear in new bills and regulations, but we fear some bills will be sweeping and not data-driven.
The Roundtable is in the process of developing science-based policies on how to address delta-8 and other intoxicating compounds in state and federal law. We are worried about patchwork of state laws created that cause confusion and impair interstate commerce. Until then, we share updates from the states which are trying to address these issues:
Alabama: HB2 clarifies that all types of THC are controlled substances except for THC in hemp. This bill has passed both chambers and is on the governor's desk.
Florida: SB 1766 would restrict delta-8 THC sales to persons 21 and older. The bill also establishes labeling and shipping requirements and creates criminal penalties for sales of delta-8 products to persons under 21.
Kentucky: The Kentucky Department of Agriculture issued a strong statement that delta-8 THC is a controlled substance under federal and Kentucky law. The statement warned registrants that distributing delta-8 products could lead to expulsion from the hemp program and criminal prosecution.
New York: S0854, New York's new recreational cannabis law, defines THC to include delta-9, delta-8, and delta-10 THC and their optical isomers.
North Dakota: HB1420 amends North Dakota's controlled substances schedule by redefining THC to include delta-8 THC as part of delta 6 cis/trans THC. The bill passed the state House but failed to pass the Senate.
Oklahoma: HB1961 defines marijuana to include delta-8 and delta-10 THC with a concentration in excess of 0.3% on a dry weight basis. HB 2004, which has passed the Oklahoma House, defines marijuana to include material with delta-8 or delta-THC that is not grown, processed, or sold pursuant to Oklahoma's hemp program.
Oregon: HB 3000 would define THC to include all THCs and intoxicating cannabinoids that are artificially derived. The bill would also prohibit sales of cannabinoid products intended for human consumption that contain more than 0.3% THC and would restrict sales of delta-8 THC products intended for human consumption to persons 21 and older.
Utah: SB 39 makes it unlawful to distribute, sell, or market a hemp or cannabinoid product that contains more than 0.3% of a THC analog. Although Governor Spencer Cox vetoed SB 39, the bill passed with large majorities in both chambers. The legislature has adjourned, but it can reconvene with a two-thirds' majority to override the Governor's veto. We are encouraging Utah Hemp Supporters to use our State Action Center to urge state legislators to reconvene to override the Governor's veto of SB 39 for its good parts.
Vermont: The Vermont Agency of Agriculture, Farms, and Markets recently emailed its hemp program registrants a statement that it is illegal to manufacture delta-8 THC products because it is illegal to use synthetic cannabinoids in hemp products or hemp-infused products. The email linked to an official webpage with further information.
Washington: The Washington State Liquor and Cannabis Board issued a policy statement that delta-8 THC may be derived from licensed facilities and added to marijuana products, however, hemp-derived delta-8 THC could not be produced in a licensed facility or sold in licensed marijuana stores.