INDUSTRY UPDATES
May 12, 2023
Bill Updates Across The States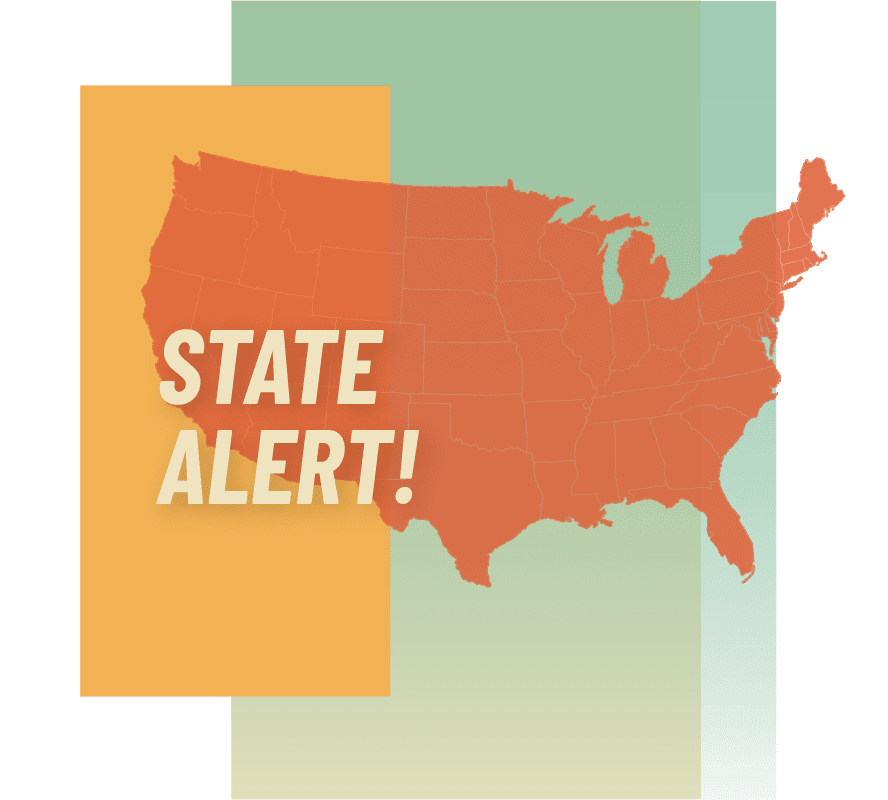 ---
Colorado
When the Colorado legislature adjourned for the year, there was certainly disappointment in Denver. SB 23-217 which was originally reflective of the hard work of a balanced task force continued to be amended at the urging of prohibitionists and marijuana monopolists. The full spectrum hemp industry took a hit – while it is not as bad as some other states like Virginia, it strayed a ways from the science-based task force recommendations.
In the end, the bill limits hemp products to 1.75mg of THC per serving, and products must have a CBD-to-THC ratio of at least 15:1. The bill prohibits the sale of hemp products in a package with more than 5 servings or selling a hemp product to a person under 21 if the product has more than 1.25mg of THC per serving or has a CBD-to-THC ratio that is less than 20:1. The restrictions do not apply to tinctures or cosmetics, but tinctures must be packaged in a container of 4 ounces or less, may not be a beverage or intended for drinking, and must consist of a solution containing at least 25% non-denatured alcohol or a base of glycerin or plant-based oil; must contain hemp, hemp concentrate, or hemp extract; and must be intended for human use.
Products containing potentially intoxicating and intoxicating cannabinoids may only be distributed or sold through the dispensary system; however, a "safe harbor" allows those products to be exported to a state where they are legal.
The bill now goes to the Governor for action. Our understanding is that the bill would go into effect upon the Governor's signature.
---
---
Florida
We continue to keep our eyes on other key states. In Florida, SB 1676 passed the House and Senate and will be delivered to the Governor for action. Governor DeSantis's office has not yet reported receiving the bill.
---
---
Minnesota
In Minnesota, a conference committee met today and is negotiating the House and Senate versions of HF 100, the omnibus cannabis bill.
---
---
Tennessee
And in Tennessee, SB 0378 passed the House and Senate and was transmitted to the Governor.
---
---
Louisiana
In Louisiana, HB 605 was reported out of committee and is scheduled for floor debate next week in the House. The bill expands the state's prohibition against CBD in alcohol beverages to include all cannabinoids, not just CBD. In addition, the bill requires tamper-evident packaging for all consumable hemp products, and prohibits them from being labeled or marketed for inhalation, or marketed to children. Under the bill, a consumable hemp product may not contain any synthetically-derived cannabinoid or cannabinoid that does not naturally occur in hemp. A consumable hemp product that is not a tincture, beverage, or floral hemp material would be limited to a total of 20 servings.
---
---
Alabama
Finally, we're declaring victory in Alabama. SB 66 passed the House and Senate and was sent to the Governor. Rather than completely criminalize intoxicating products like delta-8, the bill limits them to persons 21 or older. And the bill further ensures that intoxicating products are kept out of the hands of minors by requiring them to be stored in limited-access areas and packaged in child-resistant containers.
---
---
Visit our State Action Center to see active campaigns across the country!
---
---
Check out the latest hemp and CBD updates from across the states!
---